Home > Solutions > Enterprise > Enterprise Content Manager
Enterprise Content Manager

Maintain your companies standards for content control and image branding!

Each Loan Originator in your company may set up their own individual Virtual Lender website within your Enterprise environment and their personal website will automatically be built with your company quality control standards that you have set up within your Enterprise Dashboard. Your originators will have the flexibility of a fully functional feature rich web site branded to your company content standards.

vLender.com redefines the "Internet experience" for its clients and makes your Virtual Lender® Enterprise website system easy to use. The Virtual Lender® Enterprise Website, organizes the best Features & Content of mortgage lending and the high functionality of the Internet into one easy-to-use web tool for your company.
So, how do you control the content of your loan officers' website?
Your Enterprise Content Manager is designed to give you the freedom to create or edit content of a specific page then LOCK the content which will then disable the ability for the loan originator to change the content for that specific page. Many larger organizations are concerned about misrepresentation or compliance with regard to Loan Officer websites. The Virtual Lender Enterprise Content manager eliminates this problem by providing management a utility to control the content published out to the loan officer website.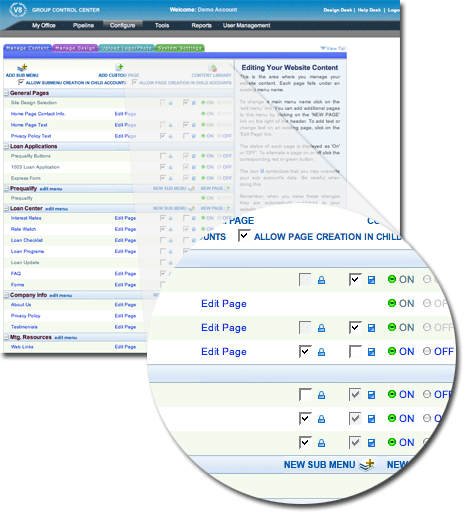 You can now use the ultimate online point-of-sale system to motivate your loan originators. This is an excellent tool to enhance originator retention. In today's tech savvy mortgage market originators expect more from their organization. It's an exciting way to grow your business and eliminate the channel conflict created through a "top down" approach to corporate web design that separates online origination from traditional origination opportunities.