Home > Solutions > Enterprise > Loan Process Central
Loan Process Central
Organizing the process flow of origination to processing!

With the Loan Process Central (LPC) Plug-in, you have the ability to configure a special user interface that will allow you to designate a single internal loan processor, underwriter or contract processor to view and or download online borrower loan applications submitted through the loan originators Virtual Lender websites. This feature can also be used as an application distribution point for delivery of an online application to a contract processing source or a central processor for Net Branch operations.

A company can use this feature to direct all web loan applications to a single designated person within the company who can then submit the loan applications to their respective AUS system for approval. This reduces branch fees related to AUS approvals and provides Quality Control methods that enhance Enterprise data communication and distribution. Online originators literally will not need loan processing software when they use the Loan Process Central system to distribute applications to a single LOS point of entry. This also improves compliance by ensuring the proper borrower disclosures are sent out via one single point of access within the company.

Loan Processor Dashboard

The loan Processor Dashboard is a private password access area for the processor to access the loan applications that have been submitted by the respective loan originators for input into the loan processing or underwriting software.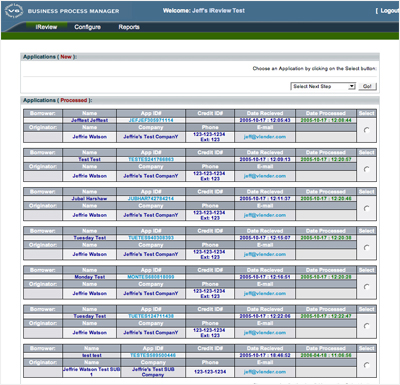 How it works

The Loan Process Central plug-in must first be activated and configured for a specific loan processor. Next, when the online loan application has been submitted on the originators website it will appear in the pipeline manager. From the pipeline manager dropdown menu select Process Central, then the file summary will appear and a loan processors name will appear in the select field.

Once the application has been pushed to a loan processor, the file is "locked" and can only be edited by the loan processor. The loan processor is notified and logs into the LPC dashboard to view and download the application into their respective LOS software. With this process, the file is never emailed or distributed from the server to a destination; rather the same data file is accessed via the LPC dashboard. Once the processor has completed the file review and download, the file is then released back to the originator and unlocked for editing, review or deletion from the server.