Keeping your client for the entire life of your business is of the utmost importance. Your client relationships should not end after the loan is closed. Now it doesn't't have to! Introducing Virtual Lender Client for Life™ a better way to manage your clients!

The Virtual Lender® Client for Life utility will track Birthdays, Loan Anniversaries, Loan Info and it will even tell you when your clients loans need to be considered for refinance based upon national average mortgage rates. This information will be at your fingertips 24/7. You can also send thank you cards and greeting cards all with a few clicks of the mouse, let me explain...

---
Adding Contacts to your Client for Life utility

There are three ways to add a borrower and contacts to your Client for Life system. The contacts that you add can range from your family and friends, to present and past clients, to business contacts and so on
Pipeline View
One way is to select the borrower from the Pipeline view, as shown in the corresponding screen shot, and then to choose "Add to Client for Life" from the drop-down and click "Go!".
Existing Applicants
You can also click the "Add Contact From Pipeline" button. This will open a new window with a list of applications in your pipeline. Simply select the borrowers you would like to add and click the "Add" button.
New Contacts
And finally you can click the "Add New Contacts" button from the main Client For Life window. This will open a new window where you can fill in all the information about your contact as shown in the next image.
---
Working with your contacts
Reminders - Once you have contacts loaded into your Client for Life system, you can be notified of Potential Refinances, Birthdays and Loan Anniversaries. You will see a number above the respective icon if there are any upcoming events for you to be aware of.

When working with contact you have the option to: Edit, Delete, View Loan Info, Monitor Potential Refinance, see all Loan Anniversaries as well as Birthdays and Holidays!

---
Send Custom Greeting Cards
This is the exciting part of your "Client for Life" system. There are just a few steps to take in order to have a customized greeting card mailed to your contacts.
The first step is to select the contacts to which you wish to mail a card. You can send a single card to one or all of your contacts in one shot. In this example, we will send the same card to all of the contacts in our demo account. Let's get started!


| | |
| --- | --- |
| | Start by selecting your contact(s) and then click the "Send Card" button at the lower right. You will then be forwarded to the Our Greeting Card site. |
| | |
| | |
| | Once there, you can begin searching for the type of card you wish to send. You can select from a list of categories on the left of your screen for just about any type of greeting card. In this example we will send a card from the "New Home" category. |
| | |
To view a card, you would simply click on the card to view a larger version of it. This will take you to a screen where you can personalize the card.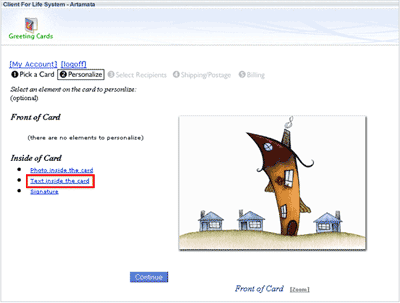 ---

Personalize Your Greeting Card

There are several ways you can customize and personalize your greeting cards. You can do things like, editing the card text, adding your own text, adding your own photo, and so on. Once you have selected a card, you will be taken to the personalization screen where all the editing happens.
| | |
| --- | --- |
| | You can upload a custom image such as your office staff, building etc. as well as edit the text on the card and upload a signature file. |
| | |
---

Mailing your card(s)

You will have two options for mailing out your cards. One is to have the cards mailed directly to your recipient. The second option is to have the cards printed and mailed to
you in a box with blank envelopes so you can mail them to your recipients yourself.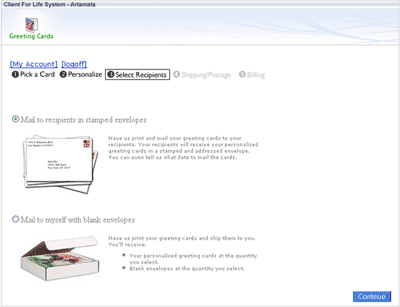 Conclusion

We hope you are as excited to use your Client for Life system as we are! It is a powerful way to really put that personal touch back into your business and make your clients,
friends, family, and business associates see just how much you care about them.

For further assistance and help, please visit http://www.vlender.com/vsupport or contact a vLender support representative by calling 800-550-1677.